Wojtek Holnicki. Travel notes.
Exhibition of photographs on the occasion of the World Day of Wetlands, February 2-February 18, 2022, Warsaw, PROM KULTURY, ul. Brukselska 23. Status: project closed.
Global climate change is becoming part horror and part cliché. The latter is certainly more dangerous because it is easier to ignore. Nevertheless, it is becoming increasingly clear that the natural resources with which mankind has interacted over the past several hundred years are in a high-risk zone. In fact, the concept of interaction was equal to the concept of ruthless exploitation, which was patronized and still is patronized by a modern project, whose distinctive feature is constant progress. This exploitation results before our eyes in the so far unknown dynamics of anthropopressure, and in the corresponding response of the planet's ecosystem, i.e. the aforementioned global climate change.
Both of these factors threaten cultural heritage, understood not only as collections of artefacts, but also as natural resources and associated traditional and sustainable human activities. While collections of artefacts, regardless of their scale, have found themselves in a zone of (apparent) predictability, natural resources still remain in a zone devoid of this predictability. The reason for this disharmony probably lies in one of the foundations of the modern project, namely the establishment of a culture-nature dualism.
Na kartach znakomitej powieści Michela Tourniera . .
Błotne bulgotanie, zgniła woda dobywająca się z oleistych wirów, cała ta bagienna atmosfera przypominała Robinsonowi bajoro i odczuwał na zmianę to poczucie triumfu, to mdląca słabość. To pole ryżowe jest chyba nieodwracalnym ujarzmieniem bajora i ostatecznym zwycięstwem nad najdzikszymi i najbardziej niepokojącymi siłami Speranzy. Lecz drogo przyszło mu opłacić to zwycięstwo i będzie zawsze z przykrością wspominał , ile trudu kosztowało go zatrzymanie strumienia zasilającego zbiornik retencyjny, wzniesienie grobli wokół pola ryżowego położonego poniżej, zbudowanie dwóch stawideł, których boczne ściany pokrył gliną, zastawek z dyli oraz wyłożenie dna kamieniami, aby nie wypłukiwała go woda. I wszystko po to, żeby za dziesięć miesięcy worki z ryżem – którego łuskanie zajmie tygodnie pracy – złożyć w spichlerzach, pękających i tak od żyta i jęczmienia. Nie po raz pierwszy samotność odbierała wszelki sens jego wysiłkom. Ujrzał nagle przytłaczająca, oczywistą daremność całej swojej działalności. Nikomu niepotrzebne uprawy, absurdalne hodowle, te jego składy urągające zdrowemu rozsądkowi, te śmiechu warte spichlerze, a do tego cała ta forteca, Konstytucja, Kodeks Karny,! Kogo chciał żywić? Kogo chronić? Każdy jego gest, każda praca była wołaniem do kogoś skierowanym, lecz pozostawionym bez odpowiedzi.

Michel Tournier "Piętaszek, czyli odchłanie Pacyfiku", PWL , 1977
(Vendredi ou les limbes du Pacifique, Editions Gallimard, 1972)
Wojtek Holnicki's photographs are notes on places, images and situations untamed by humans, which we may soon say goodbye to as a result of us still dreaming of our own power.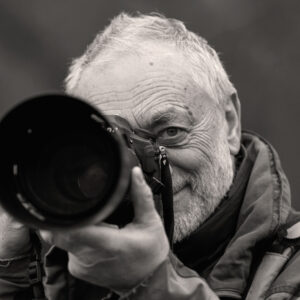 Wojciech Holnicki-Szulc
(born 1951). Graduate of the Department of The Institute of Classical Studies at the University of Warsaw, photographer. He worked in the Museum at the Royal Łazienki Museum and Museum of King Jan III's Palace at Wilanów. Now retired, he is occupying himself with what he once lacked the time to do.
---
Pictures gallery from exhibition.